Green Dragon Yard (Castlegate)
Located just off Castlegate and a short distance from the market square, quirky Green Dragon Yard is one of Knaresborough's hidden gems. With three floors of art and unique hand crafted gift ideas, Art in the Mill is a well worth exploring, whilst Scarletts Vintage Tea Room and traditional sweet shop Yorkshire Mixture will take you back to days gone by.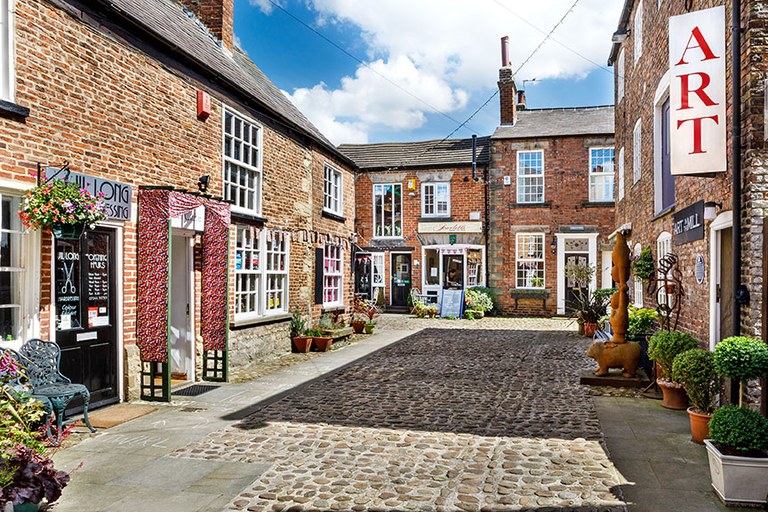 ---
Zip Inn
With Christmas already in mind however, maybe you're thinking of the party season starting again and with those thoughts comes trepidation with the prospect of being able to fit into your favourite going out gear?
So what you'll be in need of is an expert in clothing alterations!
And while you're at it, maybe now would be a good time to have your trusty winter coat dry cleaned?
If so, Shele at Zip Inn can help...(but don't leave it too late!)
---
After a long year we think you're entitled to put yourself first, especially at Christmas. So if you fancy a new look, remember that Jil at Jil Long Hairdressing has years of styling experience & can offer sound advice as well as a range of salon trusted products to help sustain. Why not pop your head in and ask for a chat?
And talking of a long year, did you like many others, fulfil any creative urges during lockdown? Or maybe you sat staring at a picture you've grown all too familiar with? Or worse still, staring at a blank wall!
---
Either way if you're thinking your walls need pepping up, Andy & Elaine at Art in the Mill and Green Dragon Framing can show you a gallery packed with original paintings & prints & for what it's worth, Andy reckons that framed memorabilia makes a perfect gift.
Do call in for ideas and inspiration and remember, there are three floors & a whole lot more to explore, including jewellery, textiles, wood, ceramics, glass & metal.
---
And talking of gifts, do you ever find yourself wondering whether your favourite childhood sweeties are still available?
Chances are, your favourites do still survive, 'but how do I find out?' we hear you ask.
Well that's a great question! and our advice would be to ask Pauline & Paul at the Yorkshire Mixture because they have an impressive display of jars filled with an amazing array of sweets from old fashioned favourites to the latest trends.
Remember, nostalgia ain't what it used to be, but it is still an inspiring gift idea!
---
Finally, and talking of nostalgia, is there anything better than a well earned and much needed cup of tea ?
Well, yes arguably, there's the home baked cake or scone or round of freshly cut sandwiches to go with it!
Maybe the thing to do is opt for a bit of everything and we suggest that's best done in a traditional tea room setting.
In which case a trip to Scarletts Tea Rooms can satisfy your needs and Sarah is on hand, whether it's a matter of tea for one or a high tea for ten!
Our top tip would be to book in advance for the high tea and bear in mind all menu items are suitable for vegans.